Undistracted, Dan Collins needs only three weeks to turn raw lumber into a sleek, one-of-a-kind guitar. If Collins was a full-time luthier, and he spent every day cutting and shaping, he might sell a handmade guitar every month for $4,000 to $10,000.
But Collins doesn't rely on this wondrous ability. Instead, he teaches others the art of guitar making at his school, Shady Lea Guitars, in Peace Dale. Collins' workshops attract four or five students at a time, and over the course of many months, these pupils transform their wood into musical instruments – acoustic, steel-string, and even ukuleles.
"It's a time commitment," says Collins. "You have to pay attention to certain details, like humidity. If you haven't done it before, it can be challenging. The shape of the neck, for instance, getting that to be a perfect curve."
Collins' life is full of surprises. He's studied a variety of visual arts, from pottery to painting, as well as photography at the Hallmark Institute. In 2001, Collins offered to photograph Vermont luthier George Morris for a then-forthcoming book about guitar-making. Morris was a family friend, and instead of payment, Collins asked to spend the winter apprenticing.
"I have always been into making functional art," Collins muses. "But I had never worked with wood. I had no idea how much I would enjoy it."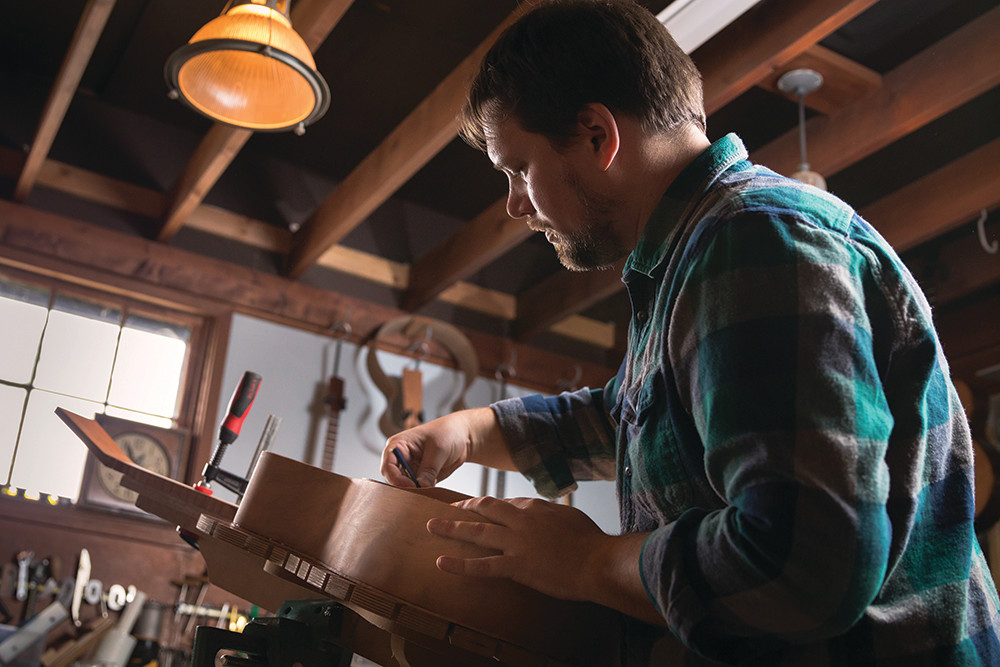 Though Collins can play guitar and loves music, he doesn't perform publicly. Instead, he is a co-founder of the Pump House Music Works, the beloved music venue that occupies the same historic space as Shady Lea Guitars. Guitar-making classes take place in an adjacent workshop, which is outfitted with workbenches and milling machines. In the concert hall, Collins sees singer-songwriters every week, but he doesn't foist his guitars on passing musicians. Sometimes he'll take commissions from friends, but he focuses most of his creative energy on the classes.
While many craftsmen grumble about mass-produced facsimiles, Collins feels little threat from the cheaper models pouring out of faraway factories.
"I think the craft of luthiering is pretty timeless," he says. "I don't think the introduction of the CNC machine affects me. I'm sure it affects other builders who are trying to sell guitars for a living. But there are disadvantages to those factory instruments. A luthier can hand-select the woods and tailor a guitar to a particular player. In the end, a handmade guitar is going to sound that much better."