Mussels have long had a home in European cooking, found as a key ingredient in bouillabaisse, the traditional Provençal fish stew, as well as paella, the ancient communal meal of Spain. Likewise, moules & frites – steamed mussels and fries, for non-Francophones – is the national dish of Belgium and also served widely in France. In the US on the other hand, their reputation was a little more prosaic.
"In the seventies the only people eating mussels were a few folks on Federal Hill," says Michael Rice, PhD, professor of fisheries and aquaculture at the University of Rhode Island. "Most everyone else saw mussels as a nice bait." Then, during that same decade, greater appreciation of Mediterranean food reintroduced Americans to these native bivalve mollusks, which grow in abundance all along the New England coast and into the Canadian Maritimes, long-valued by Native Americans for both their meat and shells.
Not as sensual as oysters or as widely eaten as clams, mussels have nonetheless come into their own in Rhode Island thanks in large part to a pioneering (and booming) aquaculture company in Quonset Point, American Mussel Harvesters, and the Red Stripe restaurants in East Greenwich and Providence, where moules & frites has long been a signature dish on the menu.
"In Rhode Island, everyone knows clams," says Greg Silkes, manager of American Mussel Harvesters, as he leads me on a tour of the company's Quonset Point shellfish processing and distribution center, which sends more than 100,000 pounds of farm-raised and wild-caught mussels to restaurants all over the country each week.
"Oysters have been a big fad in the last ten or fifteen years; branding really drives sales, because they can be raised a mile apart and taste completely different," says Silkes, whose father, Bill, founded the company in the late 1980s. "Mussels just never got the attention that oysters and clams did, and that's something we've tried to change over the last 30 years."
Silkes, as you might imagine, is pretty pumped about mussels, pointing out that Mytilus edulis, the saltwater blue mussel, typically packs 40 grams of protein and 1,500 mg of heart-healthy Omega-3 fatty acids within its shell, while only containing 290 calories.
Plus, they're tasty. "Mussels are cheap, and they're good," says Red Stripe Executive Chef Rachel Klein as she sails through a late afternoon culinary tour of the restaurant's ten distinctive preparations of moules-frites. "Mussels are looked at as not very sexy, but they're very tactile: I like to eat with my hands, and I've prepared them in all different ways," she says.
"Every restaurant has something it's known for and at Red Stripe mussels are it," says Klein, who took the lead in the kitchens in May 2017. One thing she didn't mess with was the mussels, which in other chef jobs she has prepared Normandy-style in a puff pastry and steamed in a curry coconut sauce and served with shrimp toast. "We take pride in our mussels," says Klein. "They're not an afterthought." Red Stripe's menu ranges from classically simple preparations like Moules Poulette (parsley and chive, garlic, shallot, white wine, cream) and Mariniere (thyme, shallots, garlic, leeks, white wine).
The house preparation is steamed in Red Stripe beer (of course); a Grecque version features Ouzo, fennel, lemon, coriander, garlic, shallots, and olive oil); and local favorite – the Portuguese – which features a rare red-sauce thanks to the addition of cherry tomatoes and shards of imported chorizo.
Unlike oysters, there's not much flavor variations with mussels, says Mike McGovern, chef de cuisine at Red Stripe. "They're a medium to carry everything else they're cooked with," he says.
Thanks to decades of marketing by the Canadian government, the smaller Prince Edward Island mussels are the best-known variety in the US. "They taste good, but it's hard work to get a bite," says Klein, who prefers to use the larger mussels raised and farmed in Narragansett Bay and Cape Cod by American Mussel Harvesters. These mussels grow in the water for about two years and then are either dredged from natural beds on the seafloor or gathered from the lines where they are raised from seed.
Chefs have limited options in mussels, especially compared to the dozens of varieties of oysters available. American Mussel Harvesters sells but three — their medium-sized Whitewaters, large "Big Ones," and the farm-raised, premium Blue Gold. Each is sold "restaurant-ready," with processing that includes filtering with UV-treated water for 24 hours to remove sand and other impurities and running the mussels through a machine that removes the unsightly "beard" that the mollusks use to attach themselves to rocks, docks, and boats.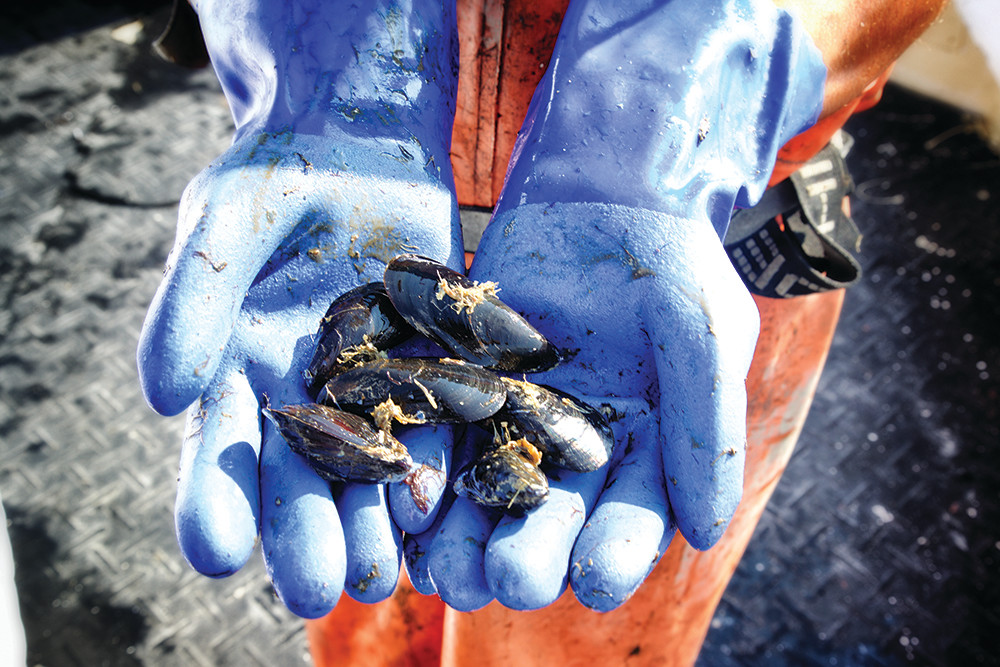 Photo by Michael Cevoli
American Mussel Harvesters' other local customers include Providence's Nick's on Broadway, Spain of Narragansett, and the Newport Restaurant Group, including their flagship Providence seafood restaurant, Hemenways. Even Matunuck Oyster Bar owner Perry Raso, who famously farms his own oysters, prefers to buy his mussels from Silkes rather than trying to raise them himself. "They're not expensive, and are fresh and local," he explains.
"Mussels are a good introduction to shellfish," says Raso. "They're not as chewy as a littleneck or as slippery as an oyster. They have a more consistent texture, are more delicate, and are always eaten cooked."
Plus, an order of mussels at Matunuck Oyster Bar costs about $14 for 1.5 pounds of shellfish, totaling between 30 and 35 mussels — more than enough to share around the table without breaking the bank. By comparison, a "buck a shuck" for oysters is considered a bargain at your local raw bar.
Finally, mussels are easy to make at home. You can buy them at Dave's Marketplace, Gardiner's Wharf Seafood in Wickford, Captain's Catch in Warwick, or directly from American Mussel Harvesters if you order ahead. You can even hand-harvest mussels yourself from the bay. "Look for them in areas with good water circulation and minimal boat traffic," says URI's Rice.
The East Passage of Narragansett Bay, which is where Silkes has his farm, has some particularly healthy mussel beds. "At low tide, you can see them right on the rocks," he says. "Just be sure they're from clean water." The Rhode Island Department of Environmental Management maintains up-to-date maps on areas of the bay where shell-fishing is safe.
When it's time for dinner, "Start with garlic and shallots in the pan," says Klein, then deglaze the pan with alcohol and add your favorite herbs or other flavorings to the resulting savory blend or umami. The steam from the liquid is what cooks and opens the shellfish; cooking only takes about four minutes with this method.
Roasting is another option, though none of the chefs we spoke to recommend a fried mussel, and they say raw is out of the question for both health and flavor reasons.
"A lot of people don't know how to work with mussels, but you just put them in when the liquid starts to boil," says Silkes. "It's such an easy thing to cook."
Adds McGovern: "As soon as they open up, they're good to go. Just steam them, open, and savor."
Keywords
Move Over,
Oysters,
Bob Curley,
Mussels have their day in the sun thanks to pioneering harvesters and chefs in South County,
Mussels,
moules & frites,
steamed mussels and fries,
Michael Rice,
professor of fisheries and aquaculture,
University of Rhode Island,
native bivalve mollusks,
New England coast,
Rhode Island,
aquaculture company in Quonset Point,
American Mussel Harvesters,
The Red Stripe restaurants East Greenwich RI,
Providence RI,
moules & frites,
Greg Silkes,
manager of American Mussel Harvesters,
Quonset Point shellfish processing and distribution center,
farm-raised and wild-caught mussels,
Oysters,
clams,
Silkes,
Mytilus edulis,
the saltwater blue mussel,
Red Stripe Executive Chef Rachel Klein,
Moules Poulette,
Mariniere,
Mike McGovern,
chef de cuisine at Red Stripe,
Narragansett Bay,
Cape Cod,
American Mussel Harvesters,
Whitewaters,
Big Ones,
Blue Gold,
mollusks,
Michael Cevoli,
Nick's on Broadway,
Spain of Narragansett,
Newport Restaurant Group,
Providence seafood restaurant,
Hemenways,
Matunuck Oyster Bar,
Perry Raso,
Dave's Marketplace,
Gardiner's Wharf Seafood,
Wickford RI,
Captain's Catch,
Warwick RI,
East Passage of Narragansett Bay,
The Rhode Island Department of Environmental Management,
SO Rhode Island,
SO RI Mag,
SO RI Magazine,
SO RI,
Rhode Island,
South County RI,
Southern RI,
RI,
Southern Rhode Island,
South County Rhode Island