Football is a game meant to be shared with friends, and when you can't get to the stadium, the next best place to embrace the action and excitement of rooting for your favorite team (Go Pats!) is at your local sports bar. These South County restaurants and pubs are winners when it comes to keeping the celebratory snacks and drinks flowing all season long.
1. Mews Tavern, Wakefield
A multi-level bar and restaurant, Mews Tavern in Wakefield is a South County favorite, with 69 beers on draft in the main bar, a family-friendly main dining room and a cozy Irish pub upstairs. The menu is bar-food heaven with everything from burgers and sandwiches to Mexican food, barbecue and pizza.

Must-try item: The Pink Panther calzone (stuffed with chicken, prosciutto, Fontina cheese, pink vodka sauce and pasta)
Pairs best with: Unita Hop Nosh on draft
Best choice for: Catching a game in a bar where football isn't the main focus
Game Day specials: NFL Sunday Ticket on the TVs in all three bars
2. Rhody Joe's, Wakefield
Classic sports bar Rhody Joe's in Wakefield features a tin-lined bar and a rustic atmosphere that's comfortable and inviting on game day or anytime. Part of the hometown favorite Chelo's chain, Rhody Joe's has two dozen beers on tap and 17 flat-screen TVs for catching all of the college and pro football action.

Must-try item: RJ's roast beef sandwich
Pairs best with: Sam Adams Octoberfest
Best choice for: Watching the game after a ride on the South County Bike Path
Game Day specials: 50-cent wings, $1.99 domestic drafts, $3.99 house margaritas, half-priced apps

3. Charlie O's Tavern, Point Judith
Charlie O's Tavern, a spacious bar and restaurant in Point Judith, is a short stroll from the ocean and has kept waves of South County visitors and residents happy for more than 25 years with specialties like house-made kettle chips and pitchers of sangria.

Must-try item: Half-pound burger with local beef from Sunset Farm
Pairs best with: Whaler's Rise IPA
Best choice for: A friendly rivalry between Patriots and Pittsburgh Steelers fans who make Charlie O's their home away from home
Game Day specials: 50-cent wings, $2 drafts
4. Gillian's Ale House, North Kingstown
The big rectangular bar at Gillian's Ale House in North Kingstown draws a lively crowd on game day, and you'll need to arrive early to snag one of the high-top tables with prime viewing of the bar's flat-screen TVs for the game. An adjacent pool room is another option.
Must-try item: Hot corned beef sandwich with melted Swiss on rye
Pairs best with: Narragansett Lager
Best choice for: Grazing through quality pub food while binging on college and NFL games
Game Day specials: 50-cent wings, $5 martinis
5. The Charlestown Rathskeller, Charlestown
Once a historic speakeasy in the backwoods of Charlestown, The Charlestown Rathskeller has blossomed into a sophisticated restaurant and pub known for its in-season outdoor dining. Live music and a plethora of activities from volleyball to horseshoes and corn hole ensure that the action goes on even when the football games end.

Must-try item: Heaping portions of their famous fries topped with short-rib gravy
Pairs best with: Warsteiner Dunkel
Best choice for: Getting your own game on before kickoff and after the final whistle
Game Day specials: $3 domestic pints, 50-cent wings and a special Patriots menu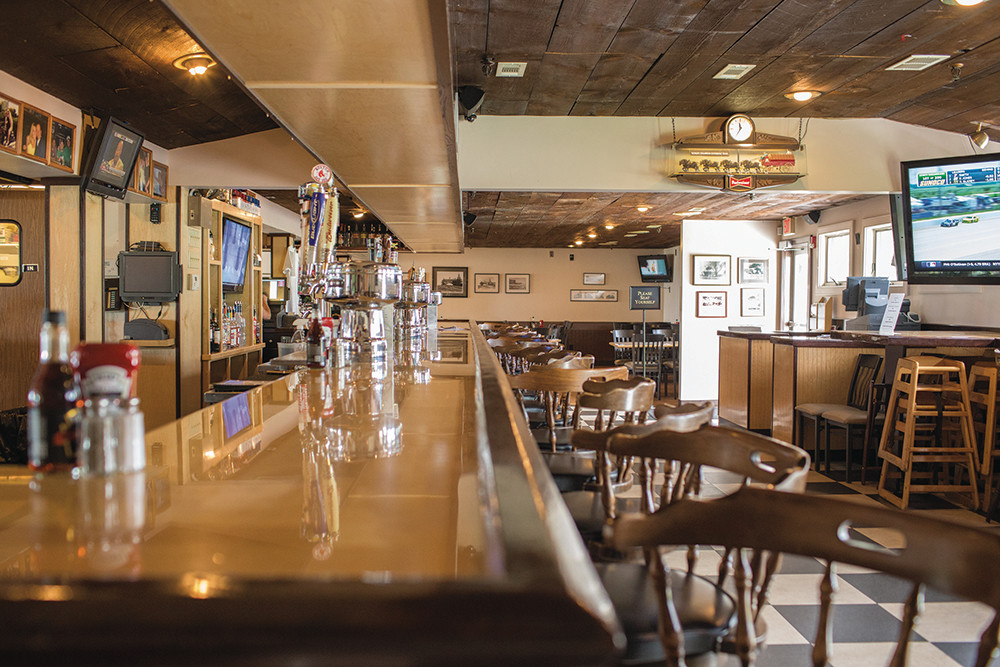 6. Twin Willows, Narragansett
A big, friendly Irish bar and seafood restaurant, Twin Willows is a hangout for Narragansett locals and beach-goers alike. There plenty of room around the huge bar on game days, but we prefer the outdoor patio for early fall football as long as the weather permits.
Must-try item: Reuben piled high with house-cooked corned beef
Pairs best with: Guinness on draft
Best choice for: Catching the games after a morning on the beach
7. Boneheads Wing Bar, West Warwick
Award-winning, rock-and-roll-themed Boneheads Wing Bar in West Warwick has 11 TVs and more than 60 flavors of boneless and on-the-bone wings, including gluten-free and vegetarian varieties.

Must-try item: Wings with "The Devil Went Down to Georgia" peach habanero sauce
Pairs best with: A 100-oz draft beer tower
Best choice for: Wings and football, of course
8. Pancho O'Malley's, Narragansett
Narragansett's famous Irish-Mexican mash-up Pancho O'Malley's has a boisterous bar and a more sedate dining room where you can order anything from fish and chips and enchiladas to wings and New York–style pizza.

Must-try item: Chicken or steak fajitas
Pairs best with: Dos Equis
Best choice for: Margaritas and futbol Americano
9. The Trap Brew Pub and Grill, East Greenwich
High-mounted TVs, communal tables and a large outdoor patio make The Trap Brew Pub and Grill in East Greenwich a great place to embrace the spirit of game day, indoors or out.

Must-try item: Garlic Parmesan wings or tenders
Pairs best with: Grey Sail Flying Jenny
Best choice for: Watching the game by the warmth of an outdoor fireplace
Game Day specials: $5 appetizers from 3 to 5pm