Like many coastal towns across Rhode Island, Westerly has long welcomed visitors from near and far – and it's not hard to imagine why. This charming beachfront community is teeming with character, distinctive villages and neighborhoods, and local pride. But downtown Westerly seems to be having a moment, or as some locals will better describe, launching a new era.
"Westerly is definitely a growing community," says business owner Annie Philbrick. "Many younger people live there as it is less expensive, and fun to walk to the bars and around town." Philbrick has been the owner of Bank Square Books in nearby Mystic, Connecticut for more than a decade, but in 2016, she opened a sister shop, Savoy Bookshop & Café, in Westerly. The whimsical, independent bookstore feels like a trek back in time with tall, handsome bookcases, high ceilings, near floor-to-ceiling windows, and cozy reading nooks inviting bibliophiles and wandering visitors alike to relax and stay a while. The neighborhood bookstore was the brainchild of investor Charles "Chuck" Royce, best known for spearheading the revival of the Ocean House in nearby Watch Hill.
"We were asked by Chuck Royce, who owns the space, that if he built us a bookstore, would we manage it," explains Philbrick. Royce was impressed with Bank Square Books and knew a similar concept would thrive in Westerly, and the timing was just right. "There was a bookstore in Westerly that closed and the town was anxious for another – and they have proven their love for an indie bookstore."
Royce has been coming to the area since the early 1980s, and there's no doubt that when he reopened the grand Ocean House hotel in 2010, the southwestern shoreline of Washington County had reclaimed a bygone era.
"Community" seems to be a running theme among businesses here. Alan and Jennifer Brinton were among some of the earlier business owners to invest in what some are calling Westerly's new chapter. The couple felt complete support from the town when they opened Grey Sail Brewing there in 2011.
"We live here. We are raising four children here. We love the town and knew we weren't going to be moving," says Jennifer. They bought a space on Canal Street for the brewery and have since bought its two neighboring buildings. "We've done a ton of improvements. From town officials to neighbors to passersby, people have been so pleased with what we've done. It's about being a good community partner and good neighbor," she says. "It's home for us, but it's also home as our patrons are from here – school teachers, residents, retirees, neighbors who have summer homes here." She also acknowledges that the business community, with its diverse offerings, has made Westerly a more attractive destination for visitors from across Rhode Island and well beyond. "We've become a tourist destination," she says, adding that the brewery sometimes acts as the de facto "North End Tourist Center," as patrons often ask where they should go to eat and what there is to see and do in Westerly. "We want that synergy, to be a tourist attraction that brings people in and hopefully they stay. They're coming in for different reasons. We hope to say, 'Discover us too.'"
Jennifer has seen a lot of changes – all for the good – since first moving here 18 years ago. "What a tremendous revival this town has had – resurgence is the word. There aren't vacant windows to walk by on High Street anymore." Jennifer also credits the local chamber of commerce for being tremendously supportive and that the organization doesn't just care about the businesses but the people, and the people who support the businesses. "There's this great cohesiveness. I think all of those things are in place to make it work and grow. I hope we're at the cusp of the beginning of an era."
Adam Mercer and his partners John H. Wiedenheft III, and his son John, launched Tapped Apple Winery more than 10 years ago. In 2016, they wanted to expand to a brick and mortar location and chose Westerly, calling it a "vibrant, growing community." He says the business community here is more like family. "There are so many things great about Westerly… No matter who you are or what your story is, there is just an unspoken bond that everyone seems to have. This includes the town management as well," says Mercer. "My partners and I have consistently been welcomed into this community not only by our new found friends and guests, but also the organizations that want to see the growth like the Ocean Community Chamber of Commerce and the Westerly-Pawcatuck Downtown Business Association. I believe the efforts of forward thinking business owners and the support of the community and the aforementioned organizations will continue this town's growth for more than just a 'moment.'"
Dana and Mark Carvey moved to Westerly two years ago for the abundance of young people, the vibrant downtown and the 'little bit of everything you need' that the town offers. The couple was eager to open a pinball bar and had also considered New Haven, Mystic, and New London as possible locations. Ultimately, Westerly won out. "The vibe in Westerly is a cross between New London and Mystic. It's small; I like that you can walk everywhere. It's safe and near the beach – it's the perfect location," says Dana.
When a commercial space on Railroad Avenue became available, just steps from High Street (the main thoroughfare), the couple sprang into action. Flip Side Pinball Bar has been a hit with locals and visitors alike since the doors opened, and their biggest supporters, says Dana, are their neighbors. "Everybody talks to everybody. No one is competing with one another… we're all on the same page," she says about the local business community. "It's always, 'How can we all do something together?'"
Case in point? Colin Bennett, who owns The Malted Barley on High Street with his wife Stephanie, liked playing pinball so much with his son that Dana and Mark installed two pinball machines from Flip Side at the craft beer and pretzel pairing outpost. The action was more than neighborly; it organically cross-promotes.
It's not just new businesses that make Westerly extraordinary; it's music, arts, events, and unique experiences. The newly branded Knickerbocker Music Center (formerly the Knickerbocker Café, but usually just called "The Knick") was first established in 1933. Although the building completed a major renovation 2009, the center's executive director, Mark Connolly, says the plan all along was for the façade to remain identical to the original. The club has its roots in blues music, and such wide-ranging artists as Count Basie and Stevie Ray Vaughan played here quite a bit.
"Our major push over the three, four years since we took the reins has been to bring the club back into the community," explains Connolly. "It had only been open on the weekends. We now have all different genres to bring in all different ages of guests."
Connelly credits Sean Spellman, curator of the Westerly Sound Concert Series, with bringing new talent – and new customers – to the theater. "He was able to get us to reach out to a younger audience. We are still true to the blues but more than half are not just blues related, which is bringing in younger people, which is good for The Knick."
In keeping with their mission to be a music-based community center, The Knick became a non-profit organization, formed in partnership with the Rhode Island Philharmonic Orchestra & Music School. Connolly says their goal is to open a music school in Westerly's United Theatre, which is building a new arts education center onsite. "There are a lot of pieces as to what's going on in Westerly, arts- and culture-wise… and we're one of those pieces making Westerly a destination."
Royce is also financially supporting the United Theatre's multimillion dollar renovation. Officially renamed the Ocean Community United Theatre, the former vaudeville theater dates back to 1926 and will hold events and performances while being the home of the music education center. The theater already hosts special events and this summer will continue the Movies in the Park series in conjunction with Westerly Library and Wilcox Park.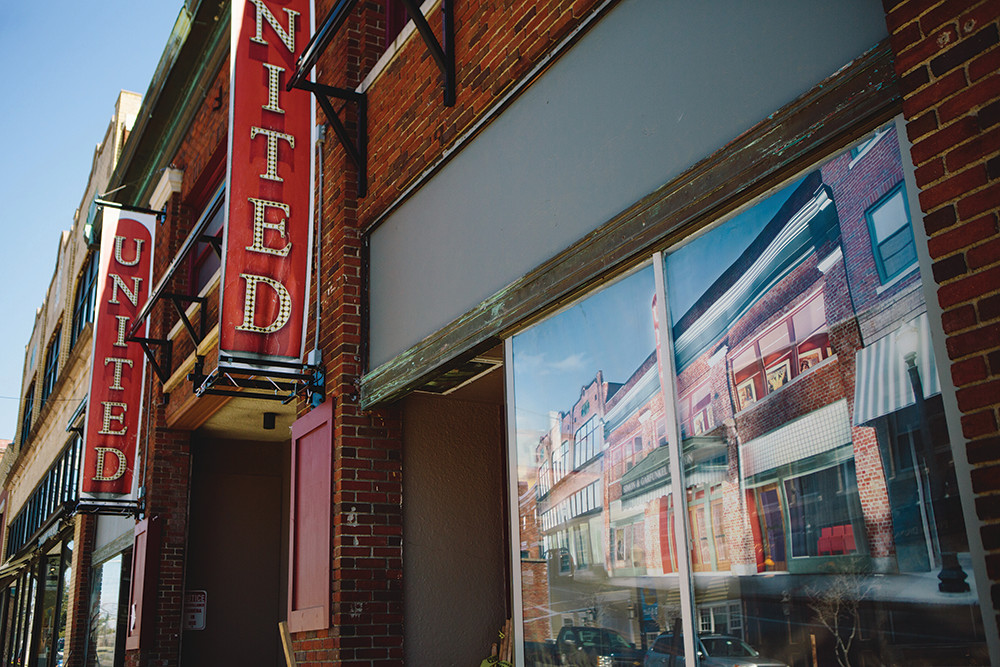 Last September, one wall of The Knick became the biggest canvas in the inaugural Bricks and Murals festival, a five-day event which included live mural painting by more than 100 artists, live music, a food stroll, and a block party. The Knick's history was portrayed in a painted piece covering the entire wall, measuring 114 feet wide by 20 feet high. The event was a rousing success.
It's events like these, says Lisa Konicki, president of the Ocean Community Chamber of Commerce, that solidify Westerly as an arts and cultural destination. Konicki says Brick and Murals, River Glow (when floating bonfires illuminate the Pawcatuck River), the Virtu Art Festival (happening in Wilcox Park this month on May 26 and 27 and will feature the fine works of 180 artists/craftspeople), and the proposed "gateway project," which would showcase the bond between Westerly and neighboring Pawcatuck, Connecticut with an iconic, artistic piece on the Pawcatuck River Bridge, are examples of events that celebrate the area's culture and history. Events like these are crucial to growing the local economy. Konicki says a study conducted at the Virtu Art Festival showed the event generated $6.6 million in economic impact. The study also provided insight into who is visiting Westerly. More than half of the Virtu visitors came from out of the immediate area and a quarter of them were first time visitors.
Westerly's magnetism hasn't gone unnoticed. In 2016, Movoto.com, a national online real estate company, ranked Westerly as the best place to live in Rhode Island, citing its effervescent dining scene, low unemployment, student-to-teacher ratio, low crime rate, and overall quality of life.
"I moved here from New York City, and I immediately fell in love with Westerly," says Elissa Englund Sweet, the marketing director at the Savoy. "There is always something going on downtown, from art events to music to community gatherings, and I love the diversity of restaurants we have in town as well." She's found the town to be ideal for work and play. "I think downtown Westerly has a really artistic, fun vibe, and I'm really excited about some of the new things that have opened up in town as well, including Flip Side and the United Theatre, which is undergoing a fabulous renovation this year. In addition, of course, I cannot get enough of the beach. I go a few times a week, even in the winter, and I love how we have both a cool downtown and a beach community in Westerly."